4+Ninnovation Consortium
The research institute relies on four R & D carriers, gathers top talents and innovation & entrepreneurship teams at home and abroad, constructs an innovation consortium of "4 + N" mode, creates a gathering highland for innovative talents in pyrolysis industry, continues to carry out forward-looking research in pyrolysis field, R & D of industrial key common technologies and transformation of scientific and technological achievements, constructs an industrial technology innovation system with deep integration of industry, university, research and application, and leads industrial technological progress, transformation and upgrading.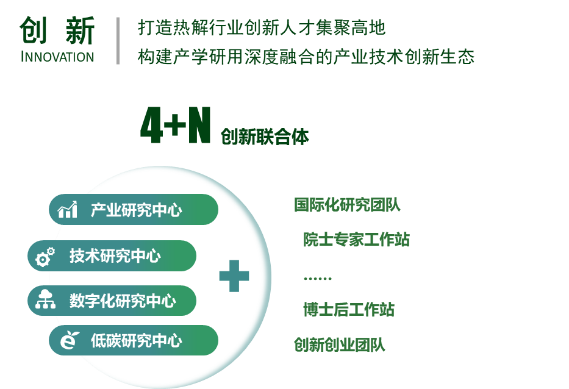 Department of Pyrolysis Industry
Depending on the industrial top professional team and taking the whole industrial chain and whole life cycle as the dimension, Pyrolysis Industry Center carries out systematic research around industrial policy, industrial development, industrial innovation and the combination c industry and finance, draws a panorama of pyrolysis industry development, provides decision support for the top-level design of industrial innovation development strategy, planning and path, and forges the most influential industrial innovation think tank in China.



Department of Pyrolysis Technology
Carrying out forward-looking research in the field of pyrolysis, R&D of key common technologies and bottleneck technologies, and transformation of scientific and technological achievements, forming technological leading advantages around manufacture and intellectualization of diversified pyrolysis complete sets of equipment, pollution control technology, multi-source solid waste pyrolysis technology and high-value resource utilization, realizing the synergy of pollution reduction, energy saving, and carbon reduction, accelerating digitalization, intelligentization and low-carbon transformation and upgrading, building an industrial technological innovation development s



Department of Digital Technology
Developing a big data platform for the pyrolysis industry to promote cloud convergence, collaborative innovation and development of industrial resources. Promoting the application of digital and intelligent technologies, focusing on digital R&D and design, intelligent equipment, intelligent manufacturing and intelligent operation and management, breaking through key information technology bottlenecks and shortcomings of intelligent equipment, and comprehensively enhancing the digital and intelligent transformation and upgrading of the pyrolysis industry.



Department of Low-carbon Technology
Serving requirements of carbon neutrality and carbon peak goals, and conducting top-level design of the development model, dual-carbon goals and realization paths for pyrolysis industry. Base on the focuse on carbon accounting, carbon trading methodology research, carbon emission reduction, and the development of key technologies for high-value resource utilization, forming an overall solution for carbon neutrality of pyrolysis industry, promoting synergy in reducing pollution and carbon, and enabling low-carbon transformation and upgrade of pyrolysis industry.